Post by garrisonchisholm on Dec 5, 2018 23:37:26 GMT -5
NWS Beta Team Logbook #03

The Pain and Pleasure of Alpha Testing, or...
A Funny Thing Happened on the Way to Beta Testing.
We are currently testing version 18 of the Alpha. Each version has given us some new features but new bugs to find, though except for 1 single brief bug it has remained amazingly playable throughout. I had been given the tentative go-ahead to write a full AAR of a play through, however the game has just not remained the 'same' for long enough to warrant the enterprise yet. So at the moment we continue to test new features to the breaking point, though we don't yet have a "full" game.
At present we have 'testable' air forces, which means the player can build air bases, request aircraft designs, convert and build carriers, and equip bases and carriers with squadrons of their choice. These air units can then fly missions, search or strike. However at the moment the AI cannot launch strikes. Fredrik is still hard at work on that. The enemy can build carriers and put up CAP, but otherwise their surface units are the only foes the player faces. There are some additional issues I should lay out, most notably that we have found that at present torpedoes are much more accurate than bombs. Dive bombers in clear calm weather deliver at 1 or 2 % accuracy, while torpedo attacks yield ~15% accuracy. This is obviously on our bug list, but at present if you want to test the efficacy of naval strikes torpedo bombers are the preferred units. Also there is no evidence yet that enemy AA weapons produce any effect. It is clearly a testing environment.
So bearing all this in mind, I thought I would recount an end-game action that I had 2 or 3 versions ago, both to highlight the process of bug finding and to illustrate an action that almost certainly will Never happen in a game. :]
Playing as Germany, I decided to focus on Europe this game. As such, I didn't see much point in building carriers at all. Almost all the action zones I would encounter would be within range of land-based air, so I embarked exactly upon that policy. I would build a Naval Air Station at each port/base, but I chose to deploy all the aircraft I could afford at Emden, as it would be closest to the most vital battle areas.
Unbeknownst to me, in this version of the alpha the max capacity for land-based air was 20 planes, essentially 1 squadron. So I should have only been able to deploy that many for testing. When I established my first squadron though I was disappointed when the ticker didn't climb and higher than 20 planes. "Oh, well I must need to build multiple NASs then." So I did, not knowing I shouldn't be able to, but the code didn't stop me.
At Emden I decided 5 squadrons would suffice, so I fielded 90 TBs and 10 fighters. As time marched on, better and better planes were rotated in. The first time Emden appeared as a base in a battle however, I discovered that my unknowning exploit had found a glitch, or rather perhaps caused one. I didn't have 90 TBs. For some reason I had 10x that many. The game had given me 10 NAS's for each 1 I built, so in actuality (due to one of the 5 squadrons being a game recommended 9 TBs 9 Fs & 2 PBs) I had 810 torpedo bombers at my disposal. Sweet! Now, I wonder if the game could handle that many...
Fast forward to far 1964, just a few years before the games mandated 1972 end date (anyone remember when the Goeben was finally scrapped?). I was at war with the French, and thus far the Emden Air Wing had not been able to contribute to an action. I finally had a fleet action and they accepted, but my early hope was dampened when I saw the weather was very low. None the less my surface units searched the soup under 8,000 yard day-time sighting ranges and intermittent light to heavy rain; 19 BBs, 3 BCs, a couple cruisers and 40 destroyers. I had the planes armed and warmed up on the tarmac, waiting for a decent sighting report.
I finally had one, just in the channel's open. My battle cruisers fleshed out the enemy line, while my battle line maneuvered to get the wind gauge and also cut the French off from home. Once I had a decent idea from scouting light cruisers what the enemy's movements were, I decided to launch the Emden Wing. I had no idea if they could find a target as I had yet to have a successful strike under rain, but then I hadn't fought in the 60's yet either. About a 75 minutes later I figure I had 800 planes orbiting over where I presumed the French line was, but they couldn't see a thing as at this point radar was broken. I *literally* said out loud, "If only the rain would lift!"- when the rain lifted. I immediately grabbed a screen capture, because I also caught the first air combat I had seen.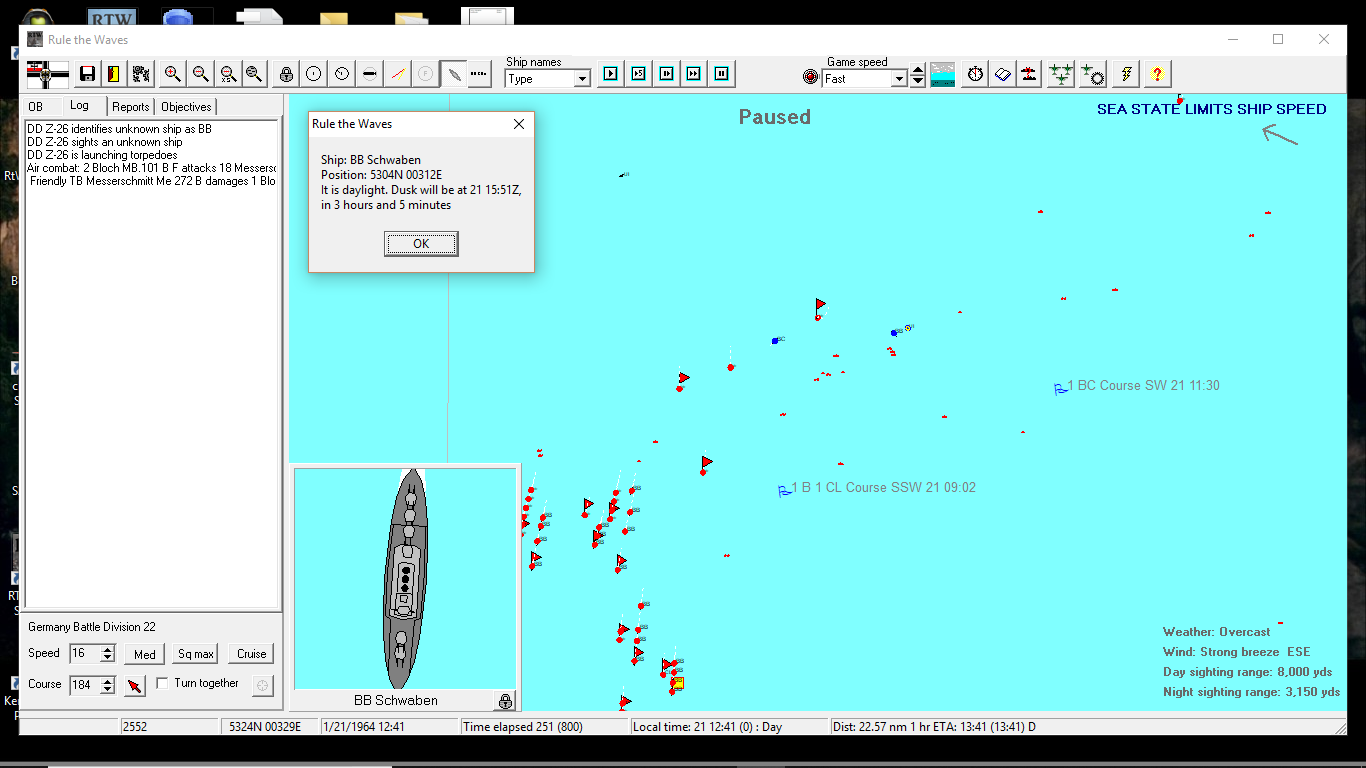 The French apparently had had CAP up regardless of the rain. However many fighters the French had however, the ensuing hour proved them entirely irrelevant. Ladies and gentlemen, I present for you the unlikely, improbable, glitch induced result of 800 torpedo bombers suddenly being given a battleline as a target, in a game where AA is not yet what it should be.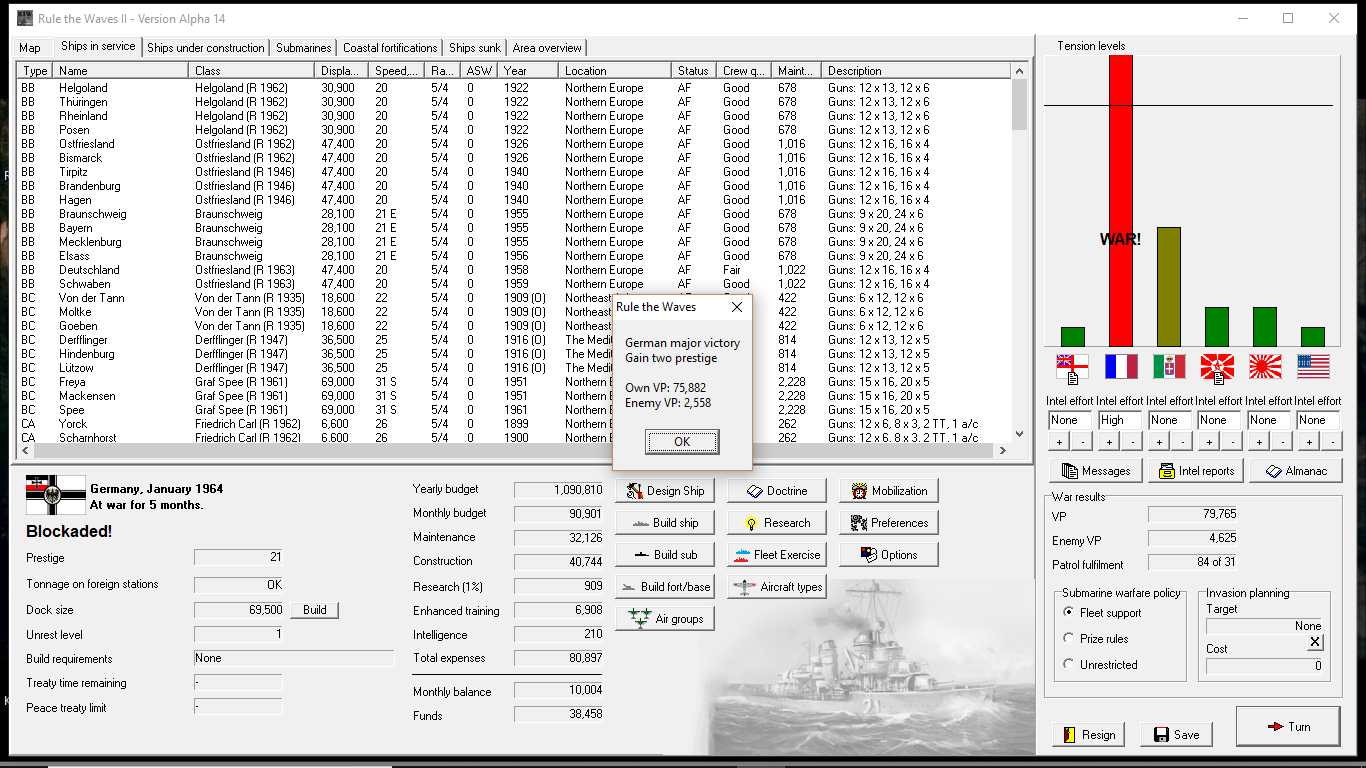 Please bear in mind, none of this 'as-is' is ever likely to be possible in the end product, but I do think it is an amusing tale worth telling. :]