Post by guino27 on Nov 19, 2016 4:53:23 GMT -5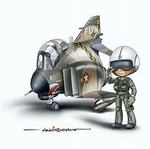 Please examine the armored deck issue from a system approach. Every aspect of a carriers construction and operation should be considered together, not individually.
The systems analysis is interesting. I suppose in the mid-30s it took some imagination to envision a carrier air wing that could successfully defend the carrier from any nearby surface unit beyond gun range. If you look at the planes that were in service before the wartime F4F, SBD, TBD, it's not a very threatening group. You have short range, poor performance, weak weapons load.
If you postulate that this will change (as it did), the armored flight deck has A LOT of problems that compound with each other to hurt effectiveness. First, the flight deck is the main armor deck and strength deck. Therefore:
1) No permanent open access
2) Any access has to be armored to a similar standard to the main deck
This means no ventilation on the hanger deck to warm up piston engines. Having the strength deck above the hanger means that the hanger height is also limited as every inch the deck goes up, the stability of the ship is compromised. It also means you have a major problem with the elevators for moving aircraft. The size of the elevator needs to be limited due to armoring. It also means the elevator is REALLY, REALLY slow (apparently the RN had a hard time developing the machinery for the elevator, unsurprisingly).
This leads to a limitation of size of aircraft as each must fit on this smaller elevator (hence wingtips being clipped off the F4U, other planes not being able to be used on RN carriers). As a system, it really hurts the tempo of operations. Planes need to be on deck to warm up, but they take a long time to get there because the armored elevators are heavy and slow. The cycle time of the RN elevators was a multiple of the USN one. It also means that elevators had to be mid flight deck as it was not feasible at first to have armored elevators at deck side positions. Thus, if one failed, flight operations stopped until it was fixed...and it was more likely to fail as it was so heavy.
The slow cycle time affected the ability to launch strike packages. You could have an unlimited number of planes in the hanger, but they needed to get to the deck, warm up and take off. With each cycle taking a while, the first planes on deck would be burning fuel waiting for the later planes, especially if they were in the air, circling to form up a cohesive strike.
It also meant that reaction for launching CAP was hindered as warmed up fighters couldn't be kept below deck in case they were needed if the flight deck was full of strike aircraft. A cold fighter could be brought up, but would have a hard time getting off before an attack reached the carrier, much less get to altitude even with good radar GCI.
The deck park was less useful because if you didn't have the right package positioned on deck, it was a real chore to swap plane types. Ordnance loading was also a hassle as any problems on the hanger deck with mishandled ordnance meant that there was a threat inside the armor. Thus, changing ordnance could be a risky decision as well as time consuming. On a USN carrier, if a threat was imminent, ordnance could be pushed out the sides of the hanger.
While it was infinitely harder to damage the flight deck on an armored deck CV, it was very difficult to repair at sea, sometimes even in port. USN CVs took terrible beatings, but, if the fires were under control, they had lumber aboard to repair the flight deck quickly.
Armored flight decks also not only don't help protect against torpedoes, they make the carrier more susceptible to listing once hit due to the heavy weight carried high on the ship. USN carriers rarely were sunk by bombs, they suffered from torpedo hits.
It's a simplistic view, but a BB with a couple of seaplanes is the logical end to the armoring of carriers. Without the ability to project force and provide defense beyond the flak zone, the CV isn't that useful.
These calculations change as planes get heavier, such as the '45 era twin engine planes and early jets that were really heavy. Wooden flight decks wouldn't suffice. Jet engines don't require the warmup time of piston ones, so having open hangers is less important at that point. Having the strength deck at flight deck level became less of an option and more of a requirement. Friedman's book on US CVs is very valuable in discussing these points. There are a couple other good sources on this discussion as well.
Can't wait for the game!